Although we introduced Chewy's new Disney Collection last week, we couldn't help but show off more of their amazing products. As it is Adopt a Cat Month, we are focusing on some of the products that are catered toward cats in the Disney Collection for Cats.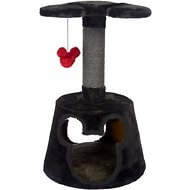 First, we have the Penn-Plax Disney 14-in Felt Cat Scratching Post With Toy. This toy allows your cat to choose between swatting, scratching a post, leaping, and more. At the bottom, there is also a blush retreat at the bottom where your cat can rest before playing again. Even more, the assembly process is nice and easy! This 10-inch toy will be put together quickly, allowing your cat to play even in a small space. https://www.chewy.com/buckle-down-personalized-star-wars/dp/316652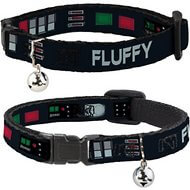 Next, we have the Buckle-Down Personalized Stars Wars Darth Vader Utility Belt Bounding Breakaway Cat Collar with Bell. This product allows you to enjoy a legendary Disney character design on your cat. Inspired by Darth Vader's iconic belt, this collar is durable, polyester-built, and also has a reinforced plastic buckle. It can also be customized with a text! Let the famous, "I am your father" inspire you!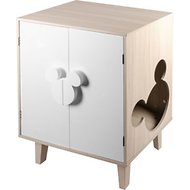 Lastly, we have a two in one item. The Penn-Plax Disney 30-in Cat Cabinet can be used as a retreat for your cat or even storage for your cat's litter box. This Mickey head carved out cabinet comes with Double French doors and with multiple entrances. The white and grey color scheme is made to blend in with any home decor and is even easy to clean
Take the time to read more about adopting a cat this June from American Humane.