Editor's Note: On July 6th, the Discovery Channel's MOSQUITO reveals the dangers of of the world's most deadliest creature to humans. As we've been covering the threats of mosquito-borne diseases for years, we could not pass up this opportunity during  Mosquito Control Awareness Week to bring this extraordinary film to our community's attention. Here's hoping the call to action from this documentary brings more attention to the mosquitoes' threat to our beloved pets.  
---
MOSQUITO features interviews with leaders in the global health community including a rare documentary one-on-one with Bill Gates and narrated by Oscar® nominated Jeremy Renner.
As many in the world prepare for the warm summer months, Discovery will use its global reach to focus the world's attention on the single greatest agent of death in modern human history:  the mosquito. The global crisis is highlighted in the worldwide premiere of the upcoming Discovery Impact film MOSQUITO, Thursday, July 6th at 9pm, on Discovery Channel and Discovery networks around the world.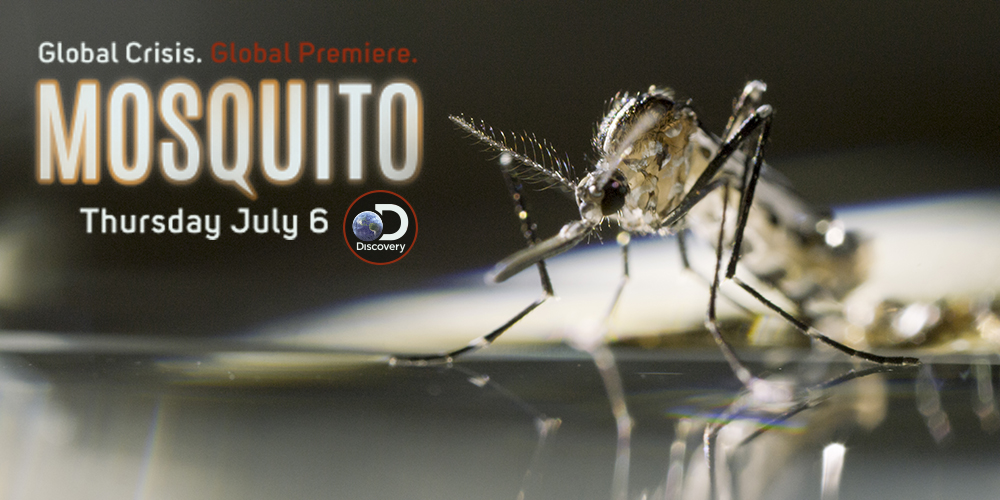 Recent news coverage around the globe has highlighted individual outbreaks of diseases such as Zika, malaria, West Nile virus, yellow fever, chikungunya, and dengue. But there is a bigger story to be told, one that connects the dots between these diseases and reveals how a single force is driving them all: the unceasing, accelerating expansion of the mosquito around the globe, driven by factors such as increasing global travel and trade and a warmer world that is more hospitable to mosquitos.
MOSQUITO is a timely in depth look at this very tiny, very dangerous creature, and how it is changing in unpredictable and unprecedented ways.  Narrated by Academy Award® nominated actor Jeremy Renner ("The Town," "The Hurt Locker,") the film chronicles the increasing global threat this tiny animal poses and the potential lethal ramifications without a worldwide coordinated effort.  The film features interviews with leading experts including former CDC director Dr. Thomas Frieden and Bill Gates, co-chair of the Bill & Melinda Gates Foundation who points out that the resources required to fight an outbreak relative to the level of death that could result from a fatal pandemic makes this a clear global health priority.
"For more than 30 years, Discovery's mission has been to ignite viewers curiosity, spark dialogue and encourage action on critical topics through our world-class storytelling and brands across 220 countries and territories," says David Zaslav, President and CEO of Discovery Communications.  "MOSQUITO sounds a worldwide alarm about the need for bold steps to address this increasingly urgent threat. As a purpose-driven company, we are proud to leverage the strength of our unmatched television and digital services in all corners of the globe to call on citizens and worldwide leaders alike to act."
"Discovery is at its best taking a global problem and showcasing its effects on individuals and their local communities," says Rich Ross, Group President, Discovery, Animal Planet, Science Channel, and Velocity.  "The spread of Mosquito-borne illnesses in places they have never been has the potential to change the world as we know it. MOSQUITO shines a spotlight on this rapidly moving issue, giving audiences the tools to understand and prepare for a new world."
Mosquitos kill more than 750,000 people a year, many of whom are children.  Today, rapid environmental shifts like climate change and the ease of international travel for both humans and goods have only increased the threat mosquitos pose, hastening their spread around the globe.  As deadly mosquitos are now reaching and surviving in places they have never – including Florida and Texas, and as far north as Washington D.C and New York – they are bringing diseases like Zika, dengue, and yellow fever to uncharted and unprepared parts of the world.  Shot on four continents, MOSQUITO weaves together expert interviews with the intimate stories of the men, women, and children who are living in fear that the next bite could be a deadly one.
The first human cases of Zika migrated out of Africa and into Malaysia in 1967. Forty years later, Zika had its first outbreak in Micronesia, causing the disease's spread through the Pacific Islands to Brazil in 2014. The first reported case of Zika in Puerto Rico was in December 2015.  A year later more than 34,000 people carried the disease.  Now over 2.5 billion people are at risk for a potential outbreak of that illness alone, which could cost the world over 500 billion dollars. These alarming numbers are a predictor of what could happen if worldwide health leaders today do not convene and act. And while some progress has been made against mosquito-borne illness, half of the world's population remains at risk for malaria and other deadly diseases.  MOSQUITO profiles a father and son from a remote village in Kenya. The father, wondering why even with their malaria nets they both have contracted the disease, carries his son on his back for to a hospital while neglecting his own care.  In addition, the film highlights, Leslie Meiners, a mother from Queens, NY who contracted West Nile virus in her own neighborhood. "I never thought it would happen to me. West Nile virus, in this modern-day society," states Meiners in the film.   "It is like playing Russian Roulette. I lost at that game."
MOSQUITO also spotlights the story of a Miami, Florida couple with a young daughter and another on the way. Scott and Lindsay Fuhrman have quarantined themselves in their home for fear of contracting Zika. "It's summer in Miami and we are cooped up scared to go outside," explains Lindsay.  The family is frustrated feeling that their lawmakers have let them down.  "Our government failed," states Scott.  "They thought this was a fantasy. We all saw it coming and they refused to help us."
Most devastating is the story of a young mother from Brazil, Ane Júliana Araújo, who is caring for a baby born with Zika while fearing the disease may affect her unborn child.   Former CDC director Frieden says in the film that, "There are so many diseases that can be spread by mosquitos.  We are going to have to come up with new, better combined ways to stopping the mosquito to protect ourselves not just from Zika… but also whatever else might come next."
In conjunction with the worldwide TV broadcast, Discovery and CARE2 are collaborating on a petition calling citizens worldwide to drive leaders to act before it is too late. In addition to airing in over 220 countries and territories around the globe, MOSQUITO will also air in Spanish on Discovery's Spanish-language channel, Discovery en Español.  Just prior to its Discovery global broadcast premiere, MOSQUITO will have a World Premiere Spotlight Screening at the prestigious AFI Docs Film Festival on June 15.  The film premieres under the Discovery Impact banner, a series of trailblazing documentaries focusing on humankind's impact on the environment, and what individuals and communities can do to solve global problems.
Mosquito: Important Info and Links from Discovery