Over the past few years, Corgis have risen up the pop culture ladder making them a true internet-sensation and desirable pet. With short legs, a stocky body and a terrific sense of humor, it's safe to say that Corgis are the comedians of the canine world. Sturdi Products Inc. has designed the XXL SturdiBag™ specifically for this special breed and both owners and their Corgis can't seem to get enough of this innovative, attractive, and durable pet carrier.
Corgis may be inclined to bark often and are sometimes wary of strangers, however, a well-trained and well-socialized Corgi can be an exceptionally obedient companion. This is why traveling with your Corgi and introducing him or her to new experiences should be at the top of a pet owner's priority list.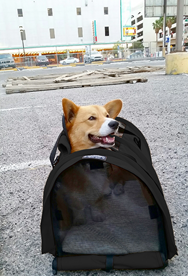 From a size perspective, Corgis may seem dwarfed in comparison to other dogs. They typically standing only about a foot tall at the shoulder, and weigh approximately 25-27lbs.Tthe XXL SturdiBag™ Pet Carrier is the perfect fit for these uniquely shaped pups. The bags dimensions are: 15 H x 15 W x 23 D inches.
The product features include:Designed to hold up to 50 pounds, made of durable 600 denier polyester, feather light construction, adjustable 4-point padded shoulder strap, retractable privacy flaps on all mesh windows, seat belt safety straps, interior fleece pad (included), ring inside SturdiBag for tether attachment (tether included), base board to prevent sagging, rear storage pocket and top opening for easy access.
Learn more at: http://sturdiproducts.com/collections/pet-carriers-totes/….
Connect Socially!
Facebook
Twitter: @sturdiproducts
Pinterest
Youtube