The NoBowl Feeding System™ — an indoor hunting system that will help keep your cat happy and healthy.
The NoBowl Feeding System is a Fear Free℠ Preferred Product. The Fear Free℠ Preferred Product Program (PPP) is designed to provide Fear Free℠ Certified Professionals access to products and services that are aligned with Fear Free protocols, procedures and recommendations.

Did you know that cats are not supposed to be fed from bowls? Neither do most cat owners. But, veterinary behaviorists have long understood that cats need to hunt for their food, not eat from bowls. For cats, food is only half of the mealtime equation. Cats need to nourish their instincts with hunting, while they nourish their bodies with food. When cats are fed from a bowl, they are denied the ability to fulfill this instinct. Their bodies are often over nourished while their instincts are starved.
A cat's frustrated hunting instincts are commonly redirected into negative behaviors like obesity, vomiting, destructive behavior, inter-cat aggression and maybe even urinating outside of the litter box. While veterinarians have known this for a long time, there has been no safe and effective way to help cats hunt inside of the home.
The NoBowl Feeding System is a new and ingenious invention that replaces the bowl with the hunt. Developed and designed by veterinarian Dr. Liz Bales this commonsense solution reawakens your cat's natural instincts helping it become what it always wanted to be – a happy healthy hunter, all while indoors. Dr. Bales applied the science and behavioral findings of established leaders in veterinary medicine and designed a revolution in cat feeding that finally supports the cat's physical and mental health.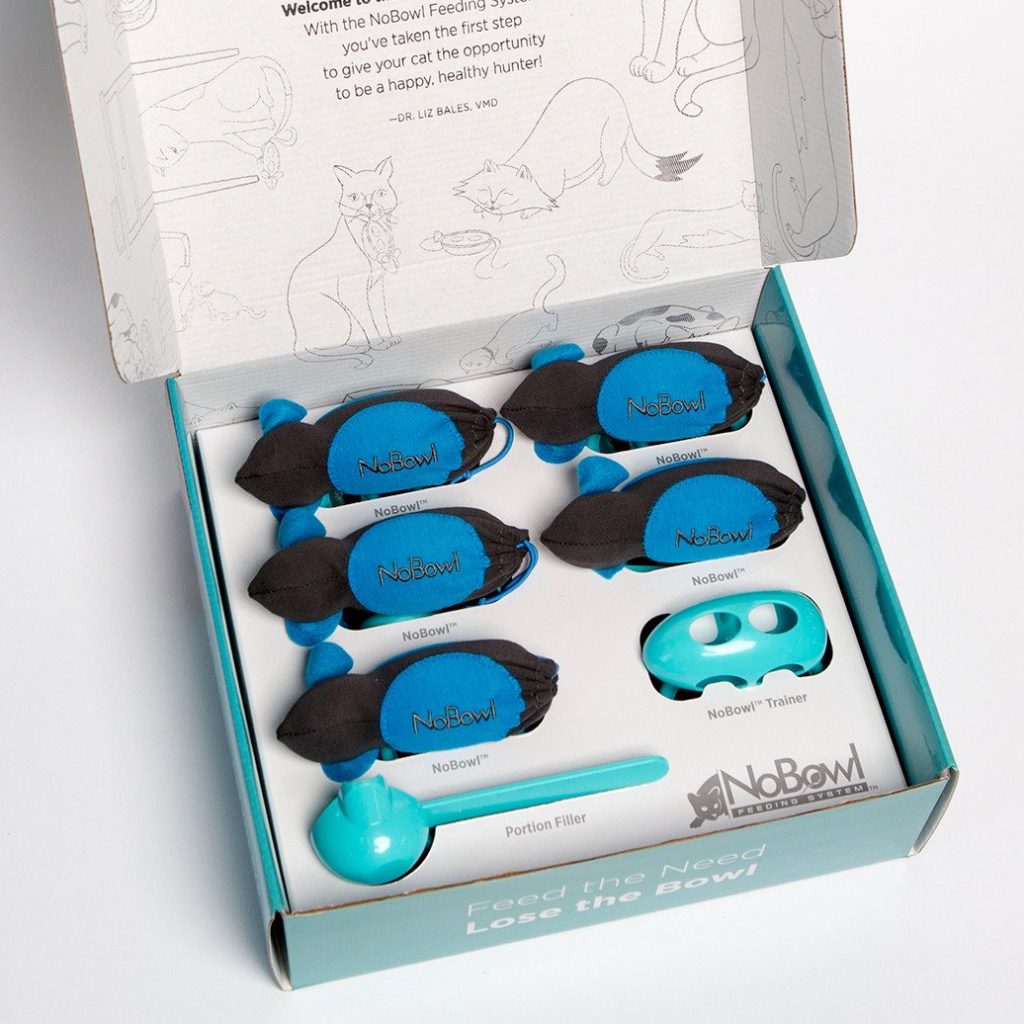 The NoBowl Feeding System, is the safe, clean, easy way to bring back the hunt with the dry food that you are already feeding.
Each NoBowl Feeding System set includes:
1 NoBowl Trainer™ complete with multiple dispensing holes
5 Naked NoBowls™ each with two dispensing holes – designed for any size kibble
5 NoBowl Skins™ designed to simulate the tactile feel of prey allowing your cat to grab, claw and use its teeth as it would in the hunt
1 NoBowl Portion Filler™ which will holds 1.6 tablespoons (1/5th the daily ration of an average 10lb cat).
Designed and tested in the USA. Manufactured in China. Intended only for use by cats. Not intended as a toy for other animals or children. Remove from cat if any part becomes loose or damaged.
Plastic NoBowls, Trainer, and Portion Filler: Food grade plastic. Dishwasher safe (top rack).
Fabric skin content: Nylon/Rayon fibers. Machine washable/Line Dry.