With lots of resources on dog safety this 4th of July, we thought it was necessary for us to highlight some Chewy products that are geared toward safety. ID tags and preparation can be essential before the holiday festivities in order to keep track of your dog if something is ever to happen. Check out some of these products that are both fashionable and safe.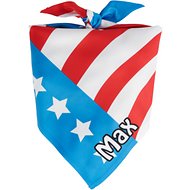 Want your dog's name on something this holiday? Try the Frisco Personalized Americana Dog & Cat Bandana. Coming in small, medium, and large, this classic red, white, and blue, is nice and fashionable for the 4th of July. The personalization allows for up to 13 characters in five different fonts. If your pup has a longer name, feel free to put a nick-name and any other cool add ons! Even if your dog gets a little dirty, don't worry! This bandana is machine washable and easy to clean!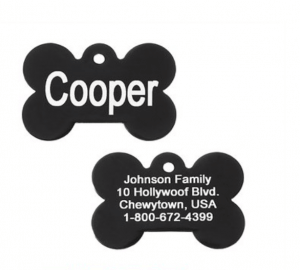 For the next personalized item, we have the GoTags Personalized ID Tag, Bone. Coming in black , blue, pink, purple, and red, these tags can be personalized with up to 4 lines on each side. For safety this holiday, you could have your pets name and your address on each side! The fireworks and chaos does not have to scare you because with these tags, the material is designed to stand up to all of the wild adventures that your dog goes on. No matter what kind of dog you have, these tags are made in two sizes, suiting nearly all breeds.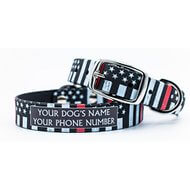 Finally, we have the C4 Stripe Flag Waterproof Hypoallergenic Personalized Dog Collar. At only $35, you could gift your pet with a patriotic collar, while also lessening your worries of your dog getting lost this holiday. This collar is waterproof, stink-proof, stain-resistant, and made with porous materials. Even more, this collar is hypoallergenic, so all pets, including those with sensitive skin can hop in on this deal!