This August 8th marks the Cat Writer's Association Communications Contest Virtual Awards Ceremony. To help celebrate our sponsorship and our love of cats and cat writers, we've prepared a list of some amazing Chewy cat products that we've been loving. Check out the full list below!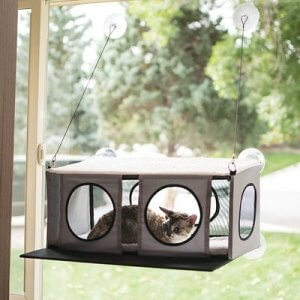 What an adorable place to lounge for your kitten! Instantly turn any window into a kitty lounge with the K&H Pet Products EZ Mount Window Penthouse Window Cat House. The convenient design attaches to any window in virtually seconds, using the proven suction cup mounting system for reassuring security. And with an enclosed design, it gives your cat a full view of the world outside through mesh windows, while offering a safe and secure spot to lay. The built-in ledge allows for easy entry and exit, and it's lined with micro-fleece—because when she's done keeping guard over the house, she'll be ready for a comfy nap.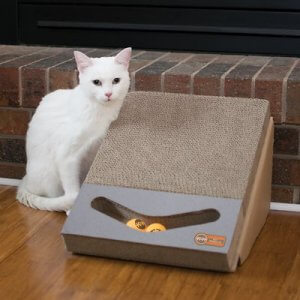 Your cat will be mesmerized by the K&H Pet Products Scratch, Ramp & Track Cardboard Scratcher Interactive Cat Toy. This toy comes to life with a large scratching surface that appeals to your cat's instinct to scratch and claw, while the moving balls satisfy his inner hunter—equaling hours of interactive fun for your playful pal. He'll love to swat and pounce to make them roll back and forth! The included catnip further enhances the sensory experience, making it the best cat toy in the house.
Grooming your cat has never been easier with this Safari Self-Cleaning Slicker Brush for Cats. With its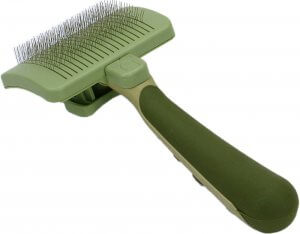 retractable pins, cleaning this brush is as simple as pushing a button. Reposition the button and you're ready to go again. The comfort grip handle and stainless-steel pins provide excellent grooming results with minimal effort. Keep the hair off your cloths and furniture, and into the trash! Make your home cleaner just by regularly grooming your cat.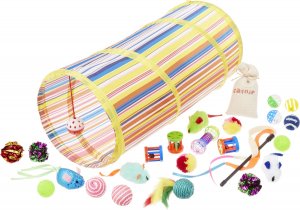 Give your kitty all the excitement that comes with 25 assorted toys, bundled together into one fun-filled pack. The play possibilities are virtually endless with so many toys together, each bringing something to the table when it comes to playtime, including feathers, crinkly textures, fuzzy mice, rolling balls and a wand. It even comes with a play tunnel for hide-and-seek or just chilling. Some toys have catnip for a boost of fun. It's all the classics for your cat with all the savings for you.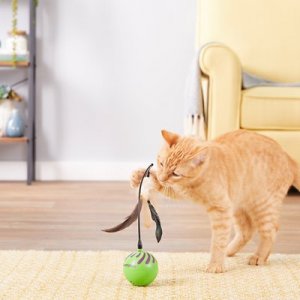 Even couch kitties can't resist the exciting feather-flying action of the SmartyKat Feather Whirl Electronic Motion Cat Toy. The weighted base rolls around erratically, causing the feathers to dart back and forth as your cat gets ready to pounce. This toy encourages exercise and provides a safe outlet for a feline's natural stalking behaviors — one that doesn't involve attacking passing legs. It turns on with the simple push of a button, and the whisper-quiet motor won't scare kitties away as they play.
For more information on the Cat Writer's Association Virtual Event, click here.