Did you know that Chewy is currently doing free shipping on orders over $49? It's a perfect time to browse their ThunderWorks products! We were lucky enough to partner with ThunderWorks for our latest Goodnewsforpets 20th Anniversary Charmed by the Love Contest, which ends July 14th,  2020. The winner will receive the products we highlight in this article, as well as other prizes! You can enter the newest contest here.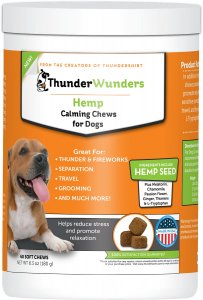 The first ThunderWorks product we're highlighting is the ThunderWunders Hemp Calming Dog Chews that come in either a 60 count or 180 count. These tasty chews are perfect for calming your dog for traveling, grooming, thunderstorms, fireworks, or any other stressful event. It's a drug-free formula eases your pet's stress without unwanted side-effects. These chews contain a unique combination of hemp seed oil, Thiamine and L-tryptophan that helps reduce stress and tension.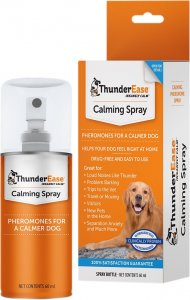 The next product is the ThunderEase Calming Spray for Dogs. ThunderSpray mimics a mother's natural pheromones and provides relaxing fragrances of lavender and chamomile. It works great for any anxieties your dog may have, including vet visits, crating, car travel, fear of thunder, pet and owner separation, reactivity to other animals or people, or general fearfulness. This calming spray can be used as an area spray or it can be applied directly onto your dog's ThunderShirt. The soothing pheromones and fragrances will continue releasing for an extended period of time to keep him cool and collected.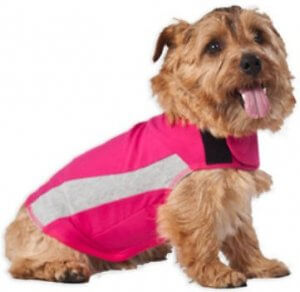 The final ThunderWorks product that we're highlighting and will be awarded to the winner of our latest contest is the ThunderShirt Anxiety & Calming Aid for Dogs in an XS. ThunderShirt uses gentle hugging to calm your dog. With its patented design, ThunderShirt's gentle, constant pressure has a dramatic calming effect for most dogs if they are anxious, fearful, or overexcited. This product is already helping hundreds of thousands of dogs around the world and is recommended by thousands of veterinarians and trainers. ThunderShirt helps keep animals calm so they are more comfortable in situations that were once frightening.
For the chance to win these products in our newest contest, enter here.