You can join the ranks of American celebrating Halloween safely with your pet. While safe at home activities rank the highest, a good portion of pet parents in the U.S. will put a costume on their pet to celebrate Halloween despite the ongoing coronavirus pandemic, at least that's according to the National Retail Federation's annual survey. The holiday may look a little different, but many of us are  finding creative ways to mark the occasion safely.
The annual survey conducted by Prosper Insights & Analytics and released in September found that more than 148 million U.S. adults plan to participate in Halloween-related activities. Among those celebrants, safe at-home activities ranked highest:
53 percent plan to decorate their homes
46 percent plan to carve a pumpkin
18 percent will dress up their pet
"Consumers continue to place importance on celebrating our traditional holidays, even if by untraditional standards," NRF President and CEO Matthew Shay said. "Retailers are prepared to meet the increased demand for seasonal décor, costumes and other items that allow families the opportunity to observe Halloween safely."
More than three-quarters say the virus is impacting their celebration plans, with overall participation down to 58 percent. Plans for parties, trick-or-treating, handing out candy and visiting haunted houses have all dropped, due largely to the fact that some activities do not easily adhere to social distancing. Even so, 17 percent say they plan to celebrate virtually.
Consumer spending is expected to reach $8.05 billion, down slightly from $8.78 billion in 2019, due to the drop in participation. However, consumers are spending more on the activities that will ensure a memorable holiday. Those who are celebrating plan to spend $92.12 on average compared with $86.27 in 2019. Consumers are doing what they can to still make it a special event by spending a little more on home decorations, candy and greeting cards.
Costumes Ranked: Pets
Popularity for pet costumes continues this year:
10 percent of pet lovers will dress their animal in a pumpkin costume (#1 last year too, see below!)
6 percent will dress their cat or dog as a hot dog
5 percent as a superhero
3 percent as a cat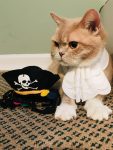 "It's interesting that the simple pumpkin rules as a favorite pumpkin and also that the cat costume is popular. Our cat Cocoa plans to redux her pumpkin costume too. In years past, she's been dressed as a pirate (thumbs down to that one!), a lighted Bumble Bee and a Geisha Girl, and even a Mets Fan over the years, but she seems to like her pumpkin attire the best. Well, tolerate is the operative word! Enjoy your Halloween – safely too!, said Lea-Ann Germinder, Goodnewsforpets editor and publisher.
Costumes Ranked: Children  
More than 2.7 million children plan to dress as their favorite princess character
More than 1.8 million plan to dress as Spiderman
More than 1.6 million plan to dress as their favorite Superhero
More than 1.3 million plan to dress as a Ghost
Another 1.3 million will dress as Batman
Costumes Ranked: Adults
Nearly 70 percent of adults planning to dress up already know what their costume will be this year.
More than 4.6 million adults plan to dress like a witch
More than 1.7 million plan to dress as a vampire
More than1.3 million plan to dress as a Cat
More than 1.1 million plan to dress as Batman
More than 1 million plan to dress as a ghost.
The survey asked 7,644 consumers about Halloween shopping plans. It was conducted September 1-9 and has a margin of error of plus or minus 1.1 percentage points.
Source: National Retail Federation