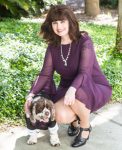 Carol Bryant is president of the Dog Writers Association of America (DWAA) and the award-winning dog blogger and
founder of FidoseofReality.com.  A dog lover of the highest order is how Gayle King introduced Carol when she appeared
with her Cocker Spaniel, Dexter, on Oprah Radio's Gayle King show to dish dogs. She has been featured on television, radio,
podcasts, and has contributed to numerous pet publications, including, Dogster, AKC Family Dog, and Today.com.
A familiar face in the digital pet park that is the Internet, Carol helped numerous clients grow their pet
blogs, online social media presence, and score media attention through savvy public relations campaigns.
She helped to grow one of the biggest pet influencer networks before it was sold to PetSmart.
As President of the Dog Writers Association of America, Carol helps budding and established writers
and bloggers and speaks at various events. As the founder of Fidose of Reality and its fundraising arm,
Wigglebutt Warriors, she and her spouse raised over $75,000 for homeless dogs to date. When not blogging, reading, or
writing about dogs, Carol loves dog-friendly road-tripping, binge-watching t.v. shows, and adding outfits to her Cocker's
growing wardrobe closet. She loves Cocker Spaniels, and proudly wears her trademark, My Heart Beats Dog®,
which is permanently tattooed on her left bicep.