Cats continue Internet domination and two companies are poised to embrace the meow movement.
THORNTON, Colo. – Oct. 29, 2015 — Cat ownership and popularity continues to soar and 43 million cat parents can't be wrong. We are a feline-loving nation, with cats dominating web video, memes, and Instagram feeds. Frisky felines showcasing their fun uninhibited mannerisms online are a worldwide phenomenon.
According to the 2015-2016 APPA National Pet Owners Survey, 65 percent of U.S. households own a pet, which equates to 79.7 million homes. Of that number, nearly 43 million cats call American households their home.
In an effort to improve the quality of cat information both online and in print to the general public, the Cat Writers' Association has once again teamed up with BlogPaws to participate in their growing, engaged and original pet community and social media marketing conference.
A Match Made in Cat Heaven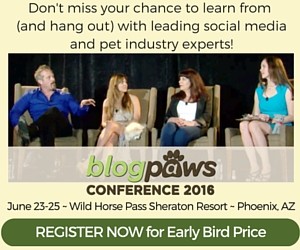 The pet-friendly BlogPaws 2016 Conference takes place at the Sheraton Wildhorse Pass Resort & Spa, near Phoenix, Arizona, June 23 to 25, 2016. During that time, the CWA will join the BlogPaws Conference with their Annual Event. In addition to CWA-branded workshops and seminars, the CWA will also host a book signing event, as well as one-on-one editor and agent appointments. Finally, the annual gala CWA Awards Banquet (separately ticketed, open to everyone) will present more than $10,000 in cash and other prizes.
"BlogPaws is thrilled to be joined by CWA in a larger capacity for our 2016 Conference," said Chloe DiVita, Director of Events and Programs for BlogPaws. "Together we can create an immeasurable impact on education and awareness for and about Pet Influencers and connect the many petparents of the world."
For more than 20 years, annual CWA Conferences have focused on writing, publishing, and marketing education for its professional members and has mentored newer writers. In 2010, many CWA members discovered the extraordinary blogger and social media education and influence offered by the BlogPaws Conferences. After a successful CWA-branded Writers Track held during the 2015 BlogPaws Nashville conference, both attendees and organizers agreed that these two powerhouse groups not only work well together, but provide their members with valuable training and education, giving rise to added cooperation in 2016.
"CWA is delighted to again be working with BlogPaws. The CWA conference offers solid information to help beginners to professionals succeed, no matter where they are in their writing and publishing journey," says Amy Shojai, the Conference/Events Chair and a founder of the CWA. "While CWA members focus on cat topics, many of us love and write about other 'pet' topics. You can expect CWA-branded sessions apply to writers across the board, whether they write nonfiction or fiction about cats, dogs, ferrets, or even people."
For a complete FAQ about the CWA and BlogPaws visit: http://catwriters.com/wp_meow/past-events/cwa-at-blogpaws…
About The Cat Writers' Association
The Cat Writers' Association, Inc. (CWA) is an international journalism organization founded in 1992 to promote the interests of cats; to provide a medium for exchange of ideas, methods and professional courtesies; and to promote a high standard of ethics in the collection, creation, and dissemination of cat information. CWA is a dynamic professional group of passionate cat advocates composed of writers, bloggers, photographers, artists, and broadcasters. The Association promotes mentorship for new writers, provides writing/publishing educational opportunities, and seeks to improve the quality of cat information by recognizing and rewarding outstanding published work in its annual contest. See http://www.catwriters.com for further information.
About BlogPaws
Founded in 2009 by three dedicated pet lovers and bloggers, BlogPaws helps pet bloggers and influencers connect digitally, build their online presence, enhance their social networks and support animals and shelters/rescues across the world. BlogPaws works year-round to connect influencers to the brands they buy every day. The BlogPaws community site welcomes pet bloggers, pet influencers on Twitter, Facebook, and Instagram and brands eager to tap into a vibrant, vocal community of serious writers, bloggers, and influencers. BlogPaws is owned by Pet360, Inc. – a division of PetSmart.  For more information, visit http://www.blogpaws.com.