PAWS: Share the Story campaign generates awareness for the PAWS Act and contributes $20,000 to domestic violence shelter across the country
As part of their commitment to promoting the health and well-being of people and pets, Bayer is supporting domestic violence shelters across the country who acknowledge pets as part of the family that cannot be left behind. Noah's Animal House, a non-profit that offers a full service pet boarding facility on the grounds of the largest women and children's shelter in Nevada, The Shade Tree Shelter, is receiving $20,000 from Bayer Animal Health to support the work they do to keep both pets and pet owners away from the dangers of domestic abuse.
A significant unmet need exists across the United States for women seeking safety for themselves and their children from violent relationships. While a strong network of shelters exists to provide them a safe place, there is a need for more domestic violence shelters to provide accommodations for their pets.
Nearly half of abused women stay in their abusive relationships out of concern for the welfare of her beloved pet.1 Each year, nearly one million animals are abused or killed due to domestic violence, and nationwide, very few shelters offer pet care with their services. Abuse victims are forced to choose between staying in an abusive relationship and leaving their pet with the abuser. Shelters like Noah's Animal House offer an alternative.
In 2005, Staci Alonso, the founder of Noah's Animal House, heard a heart-breaking story of a woman refusing to abandon her abusive life. The Shade Tree Center did not admit pets, and she could not leave her kitten with her abuser. Inspired by the woman, Alonso removed the "No Pets Allowed" sign and built Noah's Animal House in 2007, so no abuse victims feel forced to choose between their safety and their pet's safety. After nine years, Noah's Animal House has saved over 1,200 pets from abusive conditions for over 90,000 boarding nights.
"We are humbled by the kindness and generosity of Bayer Animal Health in sharing our passion for helping survivors and their pets heal in a safe place," said Alonso. "This generous funding comes at an exciting time, as we open a second location for Noah's Animal House in Nevada, furthering our mission to provide the freedom necessary for survivors and their pets."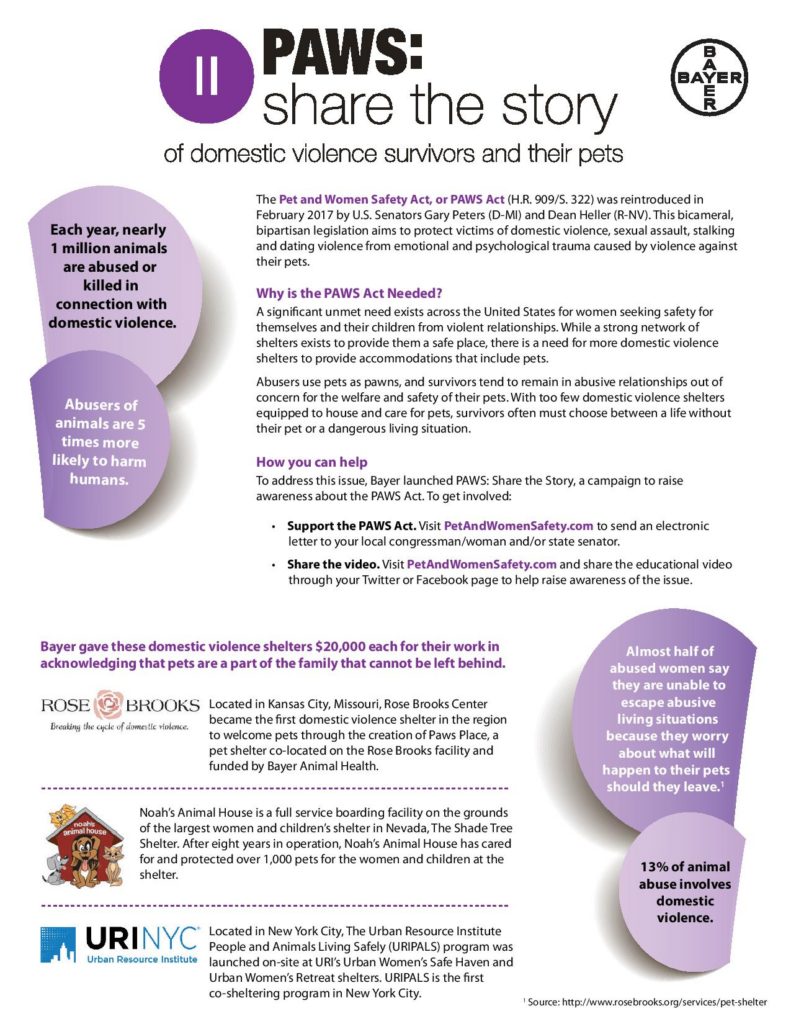 Fortunately, big steps are being taken on a national level to help victims of domestic abuse. The Pet and Women Safety Act, or PAWS Act, (H.R. 909/S. 322) was reintroduced in February 2017 by U.S. Senators Gary Peters (D-MI) and Dean Heller (R-NV). This bicameral, bipartisan legislation protects victims of domestic violence, sexual assault, stalking and dating violence from emotional and psychological trauma caused by violence against their pets. It also provides grant funding to programs that offer housing assistance, support services, and training for survivors of domestic violence, dating violence, sexual assault, and their families, including their pets.
"We recognize the great need to support all survivors of domestic violence, including pets," said Lauren Dorsch, Senior Manager of Communications, Bayer Animal Health. "We're honored to partner with domestic violence shelters that work to meet this need. By raising awareness of the issue and the PAWS Act, we hope to help even more domestic violence shelters offer safe harbor for both people and pets."
There are several ways people across the country can support the PAWS Act and raise awareness for this important cause. Those interested in this cause can take action by:
About Noah's Animal House
Las Vegas was one of the first cities in the United States to address this important barrier facing victims of domestic violence. Noah's Animal House was built on the grounds of The Shade Tree shelter in 2007 to provide safety, shelter and support for the pets of the clients of The Shade Tree. A second location in Reno, Nevada will be opening in early 2017 with Committee to Aid Abused Women (CAAW).
Approximately one million pets per year are abused from domestic violence that occurs in their home. In a national survey, 71% of women seeking safety in a domestic violence shelter reported pet abuse in their home. Often a woman will leave home after domestic violence and take refuge at a shelter with her pet only to be turned away because very few women's shelters in the US accept animals. Typically, an abused woman will return home to the abuser because the shelter was unable to take her and her pet.