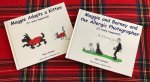 Award-winning pet lover author and photographer Marci Kladnik has introduced two terrific children's books this year. Both are available online via Amazon, Target, Barnes & Noble and Walmart. Check them out, they're great reading material for youngsters ages 4-9 during these challenging pandemic times…
Maggie Adopts a Kitten is the true story of a frightened feral kitten that lost his real family and chose a Scottish Terrier to be his new mom. Told through text and charming cartoon illustrations with photos of the cast of characters at the end. Also includes a short lesson and a four question quiz about cats and dogs to teach children about pets.
$17.99 hardback, $9.99 paperback.
Maggie and Barney and the Allergic Photographer is the delightful true story of a Scottish Terrier, Maggie, and a formerly feral kitten named Barney. Maggie and Barney have now become famous and a magazine wants to print their story. A special photographer is sent to take their pictures but he is allergic to cats. The book ends with photos of the characters and a short lesson and a four question quiz about pets and allergies.
$18.99 hardback, $10.99 paperback.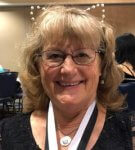 Marci Kladnik is an award-winning writer and photographer. She has won multiple MUSE medallions and Certificates of Excellence from the Cat Writers' Association and was a finalist for a Maxwell from the Dog Writers Association of America. For seven years she wrote a newspaper column about feral cats while sitting on the board of Catalyst for Cats, Inc. Her work has been published in books and magazines and she continues to write for various online and print publications. Marci served as president of the Cat Writers' Association for four years. She lives in the tiny town of Los Alamos, CA with her dog and three cats.