This bill will increase funding available for grants through the Veterinary Medicine Loan Repayment Program (VMLRP), which implements loan forgiveness for veterinarians who commit to serving in federally designated veterinary shortage areas.
The AVMA welcomes the introduction of S. 487, the Veterinary Medicine Loan Repayment Program Enhancement Act (VMLRPEA), by Senators Mike Crapo (R-Idaho) and Debbie Stabenow (D-Mich.). Representatives Adrian Smith (R-Neb.) and Ron Kind (D-Wis.) introduced companion legislation, H.R. 1268, in the U.S. House of Representatives.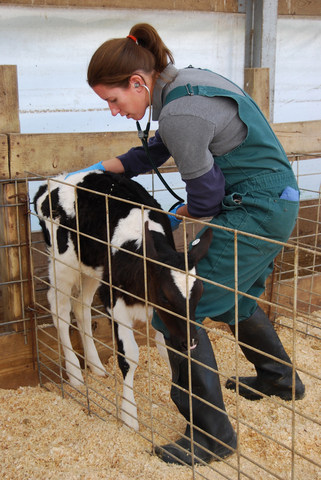 "The VMLRP is a win-win for veterinarians and rural economies because it provides loan relief while also helping alleviate veterinary shortages in areas that lack adequate access to veterinary services for livestock animals," said AVMA President Dr. Tom Meyer. "Unfortunately, the heavy tax applied to VMLRP awards decreases the number of awards that can be made and the number of rural communities that can benefit from increased services. We're grateful our leaders in Congress are again supporting legislation to remove this tax and maximize the effectiveness of the VMLRP. The AVMA played a key role in implementing the VMLRP and will continue our strong support of the VMLRPEA during 2017."
Student loan debt for graduates of veterinary colleges in 2015 topped $140,000 on average. This significant debt can make starting a veterinary practice in a rural shortage area cost prohibitive for recent graduates. As a result, many new graduates are unable to practice in underserved areas where they are most needed.
The VMLRP makes practice in rural underserved areas more financially feasible for recent graduates by providing up to $75,000 in loan repayments in exchange for at least three years of service in designated veterinary shortage areas. Since the program's implementation in 2010, more than 350 veterinarians have participated across 45 states, Puerto Rico and U.S. federal lands. However, a 39 percent income withholding tax is applied to each award, which significantly lowers the number of awards that the U.S. Department of Agriculture can make each year. If this tax had been removed, more than 100 additional veterinarians – and rural communities – could have benefitted from the VMLRP. If passed, the VMLRPEA will implement this important change.
"Access to animal care is critical to Idaho's agricultural economy," said Senator Crapo. "But too often, ranchers and farmers can't access the care they need because they live in areas where demand for veterinary services exceeds availability. This legislation will increase the number of veterinarians able to serve in the areas where they are needed most, which will help strengthen rural economies and protect the safety of our food supply."
"Veterinarians are vital to animal welfare and our nation's agricultural economy," said Senator Stabenow. "Unfortunately, many small towns and rural communities in Michigan and across the country don't have access to the veterinary services they need most. This bill creates important incentives for veterinarians to practice in underserved areas, where quality veterinary care is needed to ensure healthy livestock and a safe food supply."
"Animal health is critical to maintaining the United States' world-leading standards for food safety, with veterinarians and producers working together to ensure livestock are appropriately cared for," said Representative Smith. "However, shortages of large-animal veterinarians in many of the rural areas where our meat, poultry, eggs, and dairy are produced make this work more challenging. This legislation addresses an inconsistency in our tax code involving the treatment of student loan repayment programs while ensuring the Veterinary Medicine Loan Repayment Program's limited funding is more directly focused on bringing animal health providers to the areas where they are most needed."
"Large animal veterinarians provide critical services to communities in western and central Wisconsin. They are critical in helping maintain both the safety of our food and the health and welfare of our livestock," said Representative Kind. "However, there are a number of areas across western and central Wisconsin where there is a shortage of veterinarians. This legislation would help our communities attract and retain quality veterinarians in the places of highest need."
The legislation has broad support from more than 160 veterinary, commodity and agriculture-related organizations. Learn more about the bill, read stories from program participants and view infographics and other resources on AVMA's website.
The AVMA, founded in 1863, is one of the oldest and largest veterinary medical organizations in the world, with more than 89,000 member veterinarians worldwide engaged in a wide variety of professional activities and dedicated to the art and science of veterinary medicine.