Taking your dog to work can be easy with these recommended products from APPA members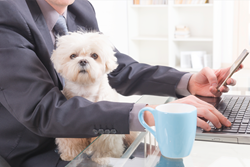 (GREENWICH, CT JUNE 15, 2016) – In preparation for Take Your Dog to Work Day on June 24, 2016, the American Pet Products Association (APPA) is helping pet owners prepare with a look at convenient products that will help Fido have a more enjoyable experience in the office. According to APPA's National Pet Owner's Survey, eight percent of all U.S. pet owners are allowed to bring their pet to work.
"At APPA we proudly embrace offering a pet-friendly workplace," said APPA Executive Vice President & COO Andy Darmohraj. "While this does not work for all companies, studies have shown that pets reduce stress which can ultimately increase productivity. We've had dogs, cats and fish at our office over the years and they have been a source of joy and a real morale booster."
If your company is celebrating Take Your Dog to Work Day, these products might be useful in helping pets adjust to this new atmosphere.
It's important to remember a leash and a pet bed (if applicable) as well to better ensure a pleasant experience. Above all, it's important to know your pet and to decide if he/she is a good fit for the office and if the pet is comfortable interacting with strangers. Also, make sure to check with employers ahead of time to ensure they are agreeable to pets in the workplace.
-###-
The American Pet Products Association (APPA) is the leading not-for-profit trade association serving the interests of the pet products industry since 1958. APPA membership includes more than 1,200 pet product manufacturers, their representatives, importers and livestock suppliers representing both large corporations and growing business enterprises. APPA's mission is to promote, develop and advance pet ownership and the pet product industry and to provide the services necessary to help its members prosper. Visit http://www.americanpetproducts.org for more