Historic Campaign that Taught Generations of Americans to Treat Animals Humanely Launches Year-Long Campaign to Solve Remaining Challenges for Millions of Animals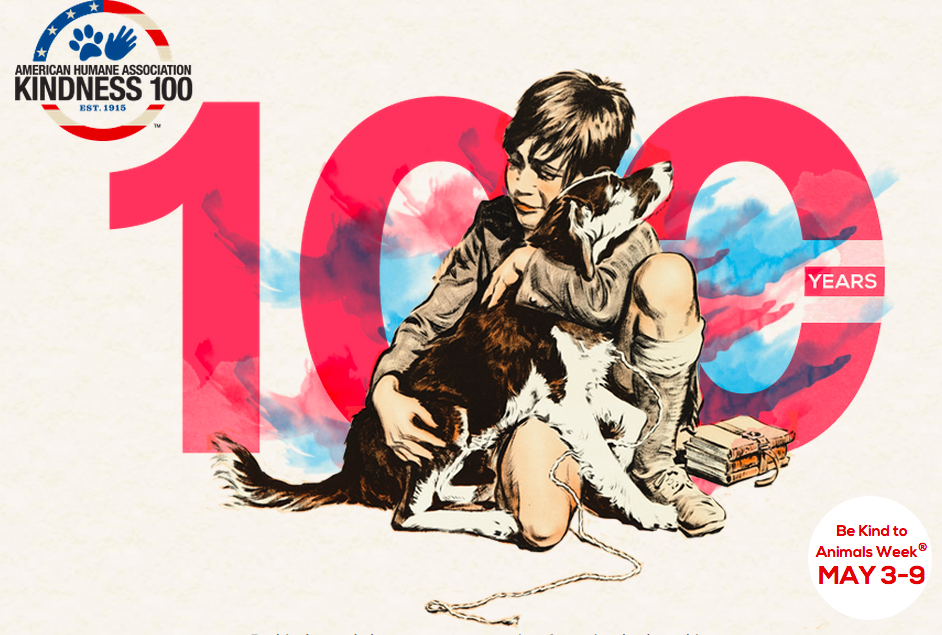 Supported by Presidents, movie stars, and celebrity cartoon characters, oldest commemorative week in U.S. history seeks to recruit all Americans as animal advocates to build a more humane world
WASHINGTON, May 3, 2015 — The oldest commemorative week in U.S. history – one that taught generations of Americans the value of treating our animal friends with kindness and compassion, is turning 100 this May and is now looking to change the world for millions of animals still in need.
"Be Kind to Animals Week®" (May 3-9) is the longest-running, most successful humane education campaign in America, and has been supported by several U.S. Presidents, movie stars from Shirley Temple to John Wayne, Eleanor Roosevelt to Betty White, and even Dennis the Menace and Porky Pig.  Look here for stunning facts, amazing photos, and an unparalleled list of VIP supporters who have been part of this iconic and historic part of our national culture and efforts to build a more humane world during the last century.
A New Campaign to Recruit All Americans to the Cause of Animals
Unlike most 100-year-olds, this historic, 100-year-old campaign shows no sign of slowing down. In fact, for this Centennial, it is ramping up efforts, launching an ambitious year-long campaign called "Kindness 100″ to recruit all Americans to become animal advocates and help solve the remaining challenges still facing millions of animals in need. The campaign, which kicks off the first week of May, seeks to enlist a new generation to do four simple things that can make a world of difference to billions of farm animals, millions of animals abandoned to U.S. shelters each year, animals in entertainment, and disappearing and endangered species.
Kindness100.org – Where you can find "how to be kind"
To reach children and adults nationwide, American Humane Association is embarking on a year-long campaign starting with a national media tour, educational roadshow to schools with a traveling museum aboard its fleet of famed Red Star Rescue trucks that save animals in disasters, and a website www.Kindness100.org where readers can find a fascinating historical retrospective of "Be Kind to Animals Week," a series of pre-K-5 curricula to teach children compassion in all areas of life, official downloadable proclamations for local, state and federal officials, and a Kindness 100 Pledge with four things people can do to improve the lives of millions – actually, billions – of animals.
1,000,000 Challenged to Take the Kindness 100 Pledge
American Humane Association is challenging 1 million people to take the Kindness 100 Pledge online at www.Kindness100.org to protect and better the lives of animals in four distinct areas, including 10 billion farm animals by seeking out humanely raised foods, the 6-8 million animals abandoned each year by adopting from a shelter, the more than 100,000 animal actors who entertain, educate and charm us in film and television each year by looking for the "No Animals Were Harmed®" end-credit, and the many endangered and disappearing species of the world by cultivating caring and understanding of magnificent creatures by taking their children to accredited zoos, aquariums, and conservation centers. This year, in honor of the centennial every person who takes the pledge will join the illustrious figures of the past 100 years as an Honorary Chair of Be Kind to Animals Week.
"The need has never been greater and the time has never been better to start a new Compassion Movement," said Dr. Robin Ganzert, president and CEO of American Humane Association. "To help all of the creatures of the world, big and small, we encourage every American to celebrate 'Be Kind to Animals Week' – not only for a week, but all year round. By teaching our children the value of kindness and doing a few simple things that require little or no cost, we may together build a better world for our animals….and ourselves."
Created against the backdrop of World War I when millions of horses were perishing on the blood-soaked battlefields of Europe, Be Kind to Animals Week has touched hundreds of millions of people, and over the years has featured many iconic spokespeople and advocates including President Warren Harding, Shirley Temple, Eleanor Roosevelt, Milton Berle, Doris Day, Porky Pig, Dennis the Menace, John Wayne, Lorne Greene, Carol Burnett, Clint Eastwood, Betty White and many others.
To join the movement and celebrate the centennial of "Be Kind to Animals Week®," please visit www.Kindness100.org. To learn more about how you can support American Humane Association's Kindness 100 campaign, and to help support America's first national humane organization and the only one working for the protection of both the nation's children and animals, please call 1-800-227-4645 or email Anastasia Staten, Vice President, Philanthropic Services at anastasias@americanhumane.org.
About American Humane Association
American Humane Association is the country's first national humane organization and the only one dedicated to protecting both children and animals. Since 1877, American Humane Association has been at the forefront of virtually every major advance in protecting our most vulnerable from cruelty, abuse and neglect. Today we're also leading the way in understanding the human-animal bond and its role in therapy, medicine and society. American Humane Association reaches millions of people every day through groundbreaking research, education, training and services that span a wide network of organizations, agencies and businesses. You can help make a difference, too. Visit American Humane Association at www.americanhumane.org today.