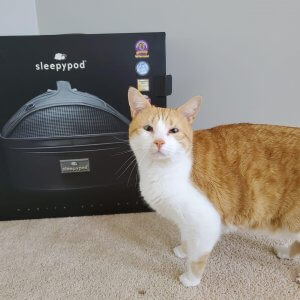 It's the time of year where June brings both hot weather and amazing stories of new-founded members to families all over the country. Angel Among Us  (AAU) Pet Rescue is all for this effort as they have a goal of saving cats and dogs from dangerous shelters and working toward getting them a safe home.
Christina Rabadan, the winner of the second Goodnewsforpets 20thanniversary "Charmed by the Love" contest donated $100 to the shelter of her choice and decided to go with AAU rescue. After winning the contest, she gives insight on how the foster-based organization deals with pets that are open for adoption.
"I know Angels Among Us Pet Rescue will very much appreciate the monetary donation and also the donated SleepyPod," said Rabadan. "They are frequently pulling adoptable cats from rural shelters around the state and transporting them to foster homes, where they get loved on until they are adopted."
Due to the virus that has plagued the nation, many places are no longer providing their services, including pet shelters. However, Rabadan notes how this rescue in particular continues to bless many homeless pets in a time of need.
"During these crazy times, many of our rural shelters had to close to public adoptions so AAU is one of the few organizations giving hope to animals at these shelters."
Christina began volunteering for AAU as a cat foster in 2015 and has loved it ever since. When she moved from Florida to Atlanta, she combined her love for cats and her desire to help out the community and found a volunteering experience that was worth holding on to.
"I've always loved volunteering in my community though, so when I moved here I looked for a way to help out with animals, and found Angels Among Us."
About Angel Among Us Pet Rescue:
Angels Among Us Pet Rescue is a 501(c)(3) non-profit charity dedicated to saving dogs and cats from high-kill shelters in north Georgia. We operate through a network of volunteers and foster homes in the metro Atlanta area. Our efforts are funded by tax-deductible contributions from compassionate people and organizations who care and want to help make a difference… one pet at a time. The mission of Angels Among Us Pet Rescue is rescue one until there are none. The vision of Angels Among Us Pet Rescue is to end animal suffering and to create a world in which there are no longer unwanted pets.
To learn more about this rescue, check out their website here for more information.
And to enter our new contest for the chance to be able to donate to your favorite shelter or rescue click here.