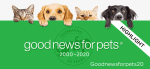 Both the English Springer Spaniel and the Mastiff sailed on the Mayflower 400 years ago and it appears they were both working dogs and companions.  We reached back in our archive and found in 2009, the American Kennel Club provided this information in celebration of their own 125th anniversary:
"Research confirms that pilgrims weren't the only passengers aboard the Mayflower. Turns out man's best friend also made the transatlantic voyage from Southampton, England to Plymouth, MA in 1620. This Thanksgiving (2009), the American Kennel Club® (AKC) celebrates the English Springer Spaniel and Mastiff, the two breeds who joined the pilgrims on their journey to the new world and who were the first to make dogs a part of everyday life for the earliest Western settlers.
The earliest mention of dogs in America appeared in a 17th century journal called "Mourt's Relation" about the first years of life in the new world. According to this account, two dogs " an English Springer Spaniel and a Mastiff " were brought along by John Goodman. The dogs were involved in the first explorations of discovery on Cape Cod during the first winter ashore.
"This Thanksgiving we give special thanks to the English Springer Spaniel and Mastiff who came to America to help the Pilgrims begin their life in the new world," said AKC Spokesperson Lisa Peterson. "While both breeds helped the settlers find and retrieve game, today, they were also trusted companions and it's amazing to think our forebears enjoyed the same breeds as we do today."
The English Springer Spaniel is a fun-loving dog adaptable to city or country life. The word "Springer" comes from the breed's inherent desire to hunt. Springers are prized for their eagerness and ability to find and scare up a large variety of game birds as well as rabbits. In the field, they are light, lean and fast.
The breed is recognized for his or her ability to keep going and going under adverse hunting conditions, which is partly due to his medium-sized, powerful body. Cheerful and affectionate, Springers love their families and like to stick close to their owners. They make excellent house pets, but require daily exercise and need regular brushing and trimming to keep their coats neat and free of mats. Additional information on the English Springer Spaniel can be found online at akc.org
The Mastiff is one of the biggest dogs recognized by the American Kennel Club " — some can even top 200 pounds. The breed is a powerful and courageous, yet gentle and loyal companion. Mastiffs were raised in Britain for more than 2,000 years and used as hunting dogs by nobility and watchdogs. They like to be around people and bond closely with their owners. Due to his large size and need for space, a Mastiff is best suited for country or suburban life and requires light exercise and minimal grooming. Additional information on the Mastiff can be found online at akc.org
With Thanksgiving approaching the American Kennel Club® offered these safety tips for pet owners to make their Thanksgiving gatherings and holiday parties fido-friendly. Among them:
•Never give turkey bones to your dog; they pose a serious choking hazard for dogs.
•Always keep an eye on the Thanksgiving table and secure leftovers and garbage to prevent your dog from going through holiday foods.
•Don't give your dog scraps. Stuffing, pies, cookies and fancy hors d'oeuvres are inappropriate foods for dogs and may make them sick.
•Keep burning candles on high tables or mantels out of the way of your dog's wagging tail.
•Alcohol is toxic for dogs, even in small amounts.
•Remember that some guests may be uncomfortable around dogs. Your dog may, in turn, be uncomfortable or frightened around unfamiliar people. You may want to confine your dog to a crate or a room that will not be used by guests.
•Stick as closely as possible to your normal routine. Try not to vary your dog's feeding, walking and playtime schedule. Additional information on pet-friendly holiday tips can be found online at akc.org/public_education/holiday_safety.cfm
EDITOR'S NOTE: An American Kennel Club Spokesperson, along with a Mastiff and English Springer Spaniel, is available to discuss the history of how these breeds helped the Pilgrims begin their life in the new world and their family-friendly qualities. Additional information as well as high resolutions photos of each breed are also available by contacting Christina Duffney at (212) 696-8344 or cmd@akc.org
The American Kennel Club (AKC), proudly celebrated its 125th Anniversary in 2009. Since 1884 the not-for-profit organization has maintained the largest registry of purebred dogs in the world, and today its rules govern more than 20,000 canine competitions each year. The AKC is dedicated to upholding the integrity of its registry, promoting the sport of purebred dogs and breeding for type and function. Along with its nearly 5,000 licensed and member clubs and its affiliated organizations, the AKC advocates for the purebred dog as a family companion, advances canine health and well-being, works to protect the rights of all dog owners and promotes responsible dog ownership. Affiliate AKC organizations include the AKC Humane Fund, AKC Canine Health Foundation, AKC Companion Animal Recovery and the AKC Museum of the Dog. For more information, visit akc.org
AKC, American Kennel Club, the American Kennel Club seal and design, and all associated marks and logos are trademarks, registered trademarks and service marks of The American Kennel Club, Inc.
Source: AKC, Originally posted November 18, 2009.