"Wags4Patriots™ Guide to Getting a PTS Service Dog" helps veterans suffering from post-traumatic stress and traumatic brain injury
(WASHINGTON, July 6, 2016) – American Humane, which has worked with the military for 100 years, today released a guide to help veterans suffering from post-traumatic stress (PTS) or traumatic brain injury (TBI) obtain service animals. The publication, whose creation was supported by the Schultz Family Foundation and the NCR Foundation, is called the"Wags4Patriots™ Guide to Getting a PTS Service Dog" and will be made available free of charge to veteran groups across the country. It can also be downloaded at www.americanhumane.org/wags4patriots.
The guide was developed by American Humane's experts based on interviews with American Humane service dog grantees, their family members, service dog agencies, mental health providers, dog trainers and veterinarians. Information in this guide will help set expectations for the service dog procurement process, as well as the cost and expense of owning a PTS service dog during its lifetime. Importantly, the guide will detail how to identify a credible PTS service dog agency.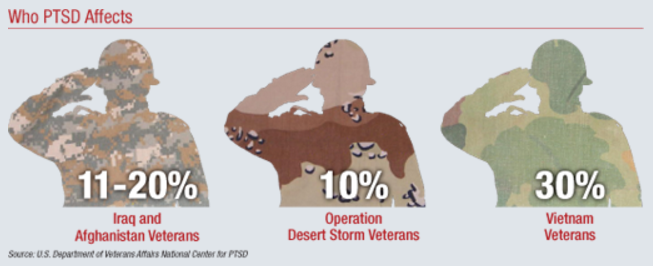 "Every day, 184 veterans are diagnosed with post-traumatic stress (PTS), which make it difficult for them to adjust to life back on the home front," said Dr. Robin Ganzert, American Humane's president and CEO. "American Humane has long advocated that veterans suffering from the hidden wounds of war be provided with service dogs because we know these four-legged heroes can help save the lives of our human warriors after they return home from battle. Veterans with service dogs have reported improved sleep, decreased startle responses, and a decrease in the need for prescribed pain medication. The dogs help their handlers to live the lives they once did."
For veterans struggling with PTS, the complex process of obtaining a service dog can be daunting. Having a guide to navigate the service dog procurement process is therefore invaluable and it can even shorten the time to secure a PTS dog.
"There's no question that service dogs help veterans with post-traumatic stress or traumatic injuries," said Elizabeth Willett, Sr.Program Officer, Onward Veterans. "Standardizing the process with this guide will help more of our returning military members get access to man's (or woman's) best friend."
"The NCR Foundation is honored to be a part of this project," said Yvonne Whitaker, Leader, The NCR Foundation. "It's important to us to help level the playing field for individuals so they have the skills and tools to reach their goals.  This program helps returning veterans feel safe and more fully participate in their lives both personally and professionally."
To learn more or to support American Humane's programs to help active-duty military members, military families, and military animals, visit www.americanhumane.org/military. To download a free copy of the guide please visit www.americanhumane.org/wags4patriots.
About American Humane Association
American Humane Association is the country's first national humane organization, founded in 1877. For more information, please visit www.americanhumane.org.
About the Schultz Family Foundation
The Schultz Family Foundation was co-founded in 1996 by Sheri Kersch Schultz and her husband Howard Schultz, chairman and CEO of Starbucks Coffee Company. Guided by a belief that an "inequality of opportunity" is stifling America's potential, the Foundation invests in innovative programs and partnerships that unlock human potential, remove barriers to success and create new pathways to opportunity. The Schultz Family Foundation currently supports two signature national initiatives: Onward Youth and Onward Veterans. For more information, visit schultzfamilyfoundation.org or follow us on Twitter @SchultzFamilyFd.
About The NCR Foundation
The NCR Foundation was established in 1953 to help support community needs consistent with its mission. As NCR Corporation has evolved into a leader in omni-channel solutions, turning everyday interactions with businesses into exceptional experiences, the NCR Foundation has evolved its grant strategy consistent with its focus on helping people help themselves.  Our mission, however, remains the same: to support NCR's interest in building stronger communities by making grants to non-profit partners that are aligned with the corporation's self-service philosophy, including global grants through U.S.-based international non-profit agencies in the focus areas of education, disability issues and health support programs.