AKC Reunite is pleased to announce a Challenge Grant from Barbara and Bob Amen (Delegate, Greater St. Louis Training Club), which will match donations to AKC Reunite's Pet Disaster Relief Fund up to $10,000 to support efforts for the families and pets in Texas and Louisiana affected by Hurricane Harvey.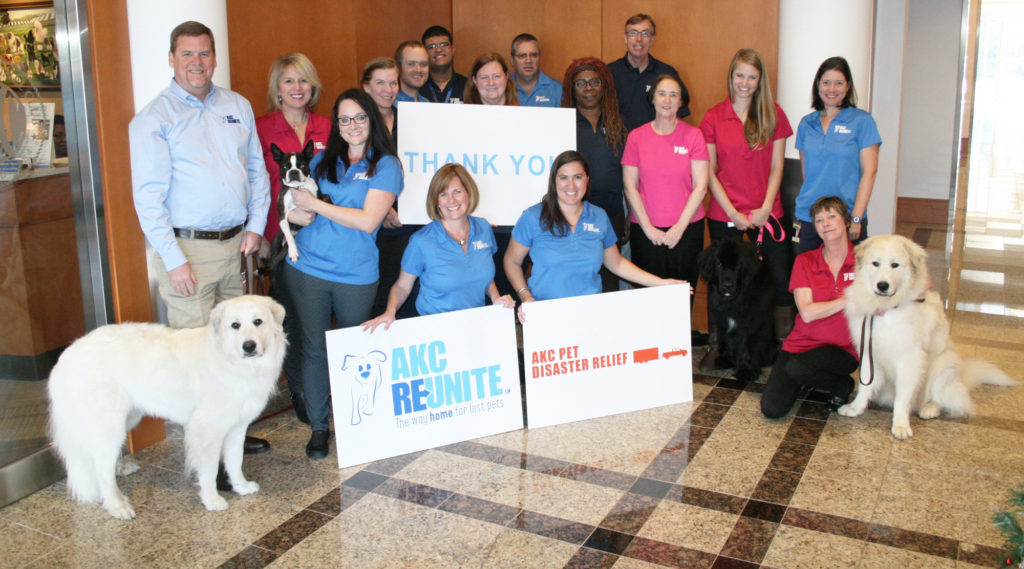 "We have many friends in the area and our first two Australian Shepherds came from Texas breeders, so we feel a special connection to the region," said Bob Amen. "We cannot believe the destruction and havoc that Hurricane Harvey has already caused and more is on the way."
"We are extremely grateful to Mr. and Mrs. Amen for their generosity during such a trying time," said Tom Sharp, AKC Reunite President and CEO.  "The American Kennel Club and AKC Reunite are committed to helping those affected by this natural disaster, and this Challenge Grant will aid our efforts substantially."
Two AKC Pet Disaster Relief trailers have been deployed in Dallas and Ft Worth, Texas to help evacuees from the storm, and AKC Reunite will continue to help shelters caring for pets displaced by the storm. Through the generous support of Barbara and Bob Amen, any donations received between Tuesday evening, August 29, and Wednesday, September 20, 2017, will be matched dollar for dollar up to $10,000 total. To donate securely online, go to www.akcreunite.org/donate.
AKC Reunite
The way home for lost pets.
AKC Reunite, an affiliate of the American Kennel Club®, is the largest non-profit pet identification and recovery service provider in the United States. Since 1995 AKC Reunite has helped pet owners reunite with their lost animals via identification and 24/7 pet recovery specialists, enrolling over 6 million companion animals and recovering more than 475,000 lost pets. AKC Reunite microchips are a popular choice of pet professionals throughout the country for permanent pet identification.
The AKC Reunite Canine Support and Relief Fund has donated more than $6 million since 2001 for disaster preparedness and relief causes that impact our nation's pets. AKC Reunite also provides free recovery service enrollment for all active service, military, and law enforcement K-9 dogs.  For more information visit www.akcreunite.org or follow us on Facebook (www.facebook.com/akcreunite).