AKC acquires several new locations throughout NYC
AKC Pet Care LLC is pleased to announce that it has acquired all of SPOT Canine Club's locations. The acquired facilities are located throughout the New York metropolitan area—Tribeca, Chelsea, Upper West Side, Midtown West, and the Upper East Side.  Additionally, the company has relationships with two residential onsite amenity spaces – the SKY building and Mercedes House, both luxury buildings.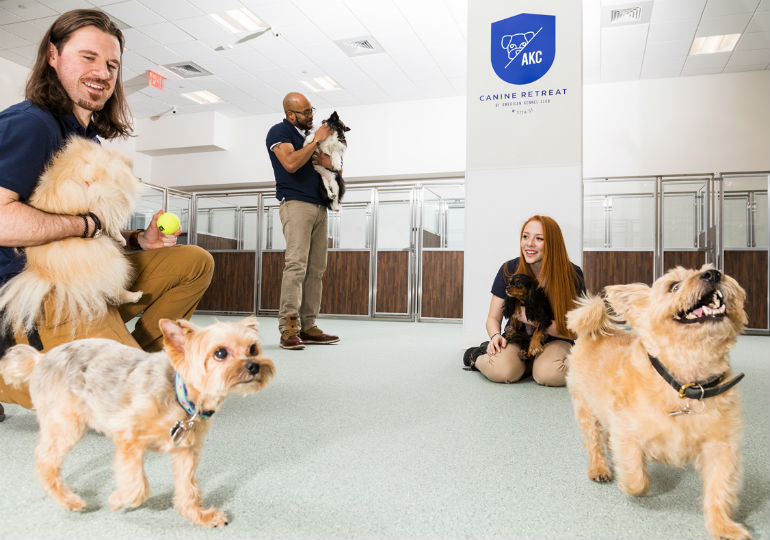 The SPOT locations add to the newly launched AKC Canine Retreat where dogs experience a new level of care tailored to their individual needs and temperament. All of Canine Retreat's professional staff is trained in the most up-to-date care and training methods established by the American Kennel Club. This rapid expansion occurs just three short months after the successful opening of the AKC Canine Retreat facility in the VIA 57 NYC.
AKC Canine Retreat aims to create the ultimate dog experience and serve dogs better with extensively trained staff who are experts in breed behavior, using positive reinforcement training and leveraging AKC Canine Good Citizen® Evaluators to help dogs become good city dwellers.
Both AKC Canine Retreat and SPOT Canine Club offer daycare, boarding, training, walking and grooming and bathing services.
"SPOT Canine Club is a well-respected brand in the pet care space," said Dennis Sprung, President and CEO of AKC Pet Care LLC. "We are excited to expand our business and create a strong foundation on which we can continue to provide the best-in-class pet care."
Alexandra Aleskovsky, EVP and Chief Growth Officer of the AKC has observed, "The pet care industry continues to grow at a rapid pace. This venture is the next logical step in AKC Pet Care's becoming a powerful entity in that space. It is exciting that the AKC Pet Care brand is building a bigger and stronger business, while providing a valuable service to dog owners in the New York Metropolitan area."
AKC Pet Care LLC, will invest in existing locations to update them into industry leading facilities.
Source American Kennel Club