October is Adopt-A-Dog Month, and the Texas Veterinary Medical Association (TVMA) honors this occasion by encouraging potential dog owners to not only adopt a furry friend from a rescue or shelter but also to practice responsible dog ownership.
The phrase "Who rescued who?" couldn't ring more true than for loving dog owners who adopted their canine companions from rescue organizations and shelters. Each year, an estimated 3 to 4 million animals in shelters never find a forever home and, unfortunately, are euthanized. Choosing to adopt a dog from a shelter or rescue organization means saving a dog's life. Both the American Society for the Prevention of Cruelty to Animals (ASPCA) and the American Humane Association broadcast this message in October through their respective events, "Adopt a Shelter Dog Month" and "Adopt-a-Dog Month."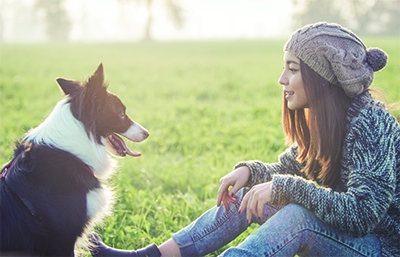 The Texas Veterinary Medical Association (TVMA) celebrates this month by encouraging potential dog owners to not only adopt a furry friend from a rescue or shelter but also to practice responsible dog ownership throughout the pet's life. Some of the basic tenets of responsible dog ownership include:
Regular exams with your veterinarian addressing issues including dental health, skin allergies and health issues that arise with age
Keeping your dog up-to-date with vaccinations for diseases such as rabies, canine distemper and parvovirus
Maintaining a healthy weight for your dog by feeding a healthy diet and incorporating exercise into its lifestyle
Reducing financial stress by putting pet health care in your family's budget
Making sure your dog has proper identification, whether it's by microchip or a collar with your contact information (ideally both)
Ensuring your dog is kept safe from the elements, making sure it is protected during times of extreme cold or heat and always keeping it properly hydrated
Establishing natural disaster preparation plans in the event of emergencies, including creating an evacuation kit
Having spay or neuter procedures performed to curb the pet overpopulation problem
Fulfilling these components of dog ownership is the best investment you can make in your dog's life. "Preventative care in veterinary medicine not only includes vaccinations but now encompasses a wide variety of life stage-specific options," said TVMA Chairman of the Board Aaron Rainer, DVM, MPH, who practices in Richmond, Texas. "Your veterinarian can guide you in making these important decisions for your family's pets."
Partnering with your veterinarian is a crucial component of responsible dog ownership. TexVetPets.org allows this collaboration to continue online in between visits to the clinic by offering a reliable source of accurate pet health information that is peer-reviewed and written by TVMA members—the veterinary professionals of Texas. When you're in need of information on ownership topics such as clinic etiquette, zoonotic diseases, weight-loss plans and caring for senior pets, visit the dog wellness section of TexVetPets.org.