ASPCA commits $1 million to life-saving ACC programs in 2017
Animal Care Centers of NYC (ACC), the only open-admission animal shelter serving all five boroughs, hit an all-time high year-end placement rate for cats and dogs of 89.2 percent (88.4 percent for cats; 90.9 percent for dogs).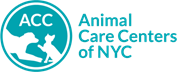 Strong contributing factors to this milestone include ACC's placement of animals through adoptions, as well as regular transfers of animals to its New Hope Partners, including the ASPCA® (American Society for the Prevention of Cruelty to Animals®). In 2016, the ASPCA received more than 2,000 animals, mainly cats, from ACC, and also completed more than 5,800 spay/neuter surgeries for ACC.
ACC's record high placement rate also can be attributed to its innovative approach to preventing animal surrenders. By providing critical services to pet owners in need, ACC enabled more New York City families to keep their pets. From 2015 to 2016, owner surrenders in the city decreased by 629 animals.
In addition to continuing to provide thousands of spay/neuter surgeries, medical support and other hands-on mentoring, the ASPCA is committing $1 million to ACC in 2017, much of which will support ACC's surrender prevention programs. These programs include admissions counseling for owners considering relinquishing their animals, and providing these owners alternate solutions to keep their pets in their homes. It also funds programs like Community Pets, which provides critical services, including vaccinations and microchips to pet-owning families in underserved neighborhoods. ASPCA funds will also support ongoing ACC programs related to animal rescue and transport, medical services and other innovative programs designed to reduce intake and elevate the level of care provided to the animals in their centers.
"This is an incredible milestone for animal welfare in NYC, and ACC is proud of the hard work that produced these results. With the help and guidance from the ASPCA, ACC is reducing the number of animals surrendered and promoting the health and welfare of animals in NYC," said Risa Weinstock, ACC's Executive Director. "With the help of the ASPCA, as well as more than 200 other active New Hope Partners, the community of animal advocates and adopters, volunteers and donors, ACC has reached this record success. We are proud of this accomplishment and are committed to continued improvement and success."
"The progress ACC made last year — and has sustained over the last 10 years — reflects their longstanding dedication to continuously improving the welfare of New York City animals," said Matt Bershadker, President and CEO of the ASPCA. "It also illustrates their commitment to partner with organizations such as the ASPCA to create impactful programs, including critical efforts to help owners in communities where basic pet care may be unaffordable or inaccessible."
ACC rabbits as well as cats and dogs available for adoption can be viewed online at http://nycacc.org/AdoptionSearch.htm, or on ACC's free mobile app (available on Google Play and the Apple App Store).