After a few years of covering Global Pet Expo solo, the timing seemed right for this Boomer to bring along a young cohort again. This time around it was Joseph Germinder, lending a decidedly Gen Z perspective.  We had already teamed up for successful coverage and meetings at VMX2019 in January. Little did I know that AAPA would announce Gen Z stats would be included for the first time ever in the APPA National 2019-2020 Pet Owner Survey.
In the meantime at the show, the kick-off Merrick press conference caught his attention with its cause marketing campaign, their 5-star promise to work hard, deliver superior nutrition and improve the lives of pets and their parents. He was on board to participate in the social campaign as he both believed in the food and the cause. I'm also in for their longtime support of Global Pet Expo as well as with Purina, another longtime supporter of Global Pet Expo and solid pet nutrition. More to come there.
His next intriquing observation was his take on the explosive growth of CBD and hemp products. We had already seen a bit of it at the VMX2019 show. While my background from years of working with veterinary medicine with FDA and USDA regulated products gives me more "paws," I have also worked on many OTC product launches, and his interest led me to many in-depth conversations with holistic vets representing various companies.
I also explored Elanco's first ever booth at this show, although they understandably were focused on customers. His interests were decidedly geared to the explosion of the CBD and hemp products, which he approached with an entrepreneurial zeal. It made for lively internal conversations and quite frankly, an easier conversation when we approached those new product booths.
Well-designed products are not in short supply at Global Pet Expo, but there were a few stand-outs we agreed on. Dexas, makers of the award-winning and handy for Spring Mudbuster, introduced off-leash Adventure Driven Gear, a new line of pet toys attached to a leash with a carabiner. Not surprisingly the product was a 2019 Global Innovation Awards finalist.
An additional area of interest of mine is licensing as I've spent several years handling the launch of licensed products – both with and without celebrity spokespersons. Always to be counted on Fetch for Pets proffered up their latest innovative offerings. There was a Star Wars pet products collaboration, a new redesigned Arm & Hammer dental care solutions line, Glad disposable bowls, and new packaging for the Burt's Bee's Care Plus grooming liquids and more. We'll be covering more on Fetch and other company collaborations with licenses ranging from Justice League to Grumpy Cat to Kiss.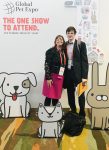 We were mutually impressed with the scope of the new Kurgo RSG line of customizable, modular products, foul weather jacket, and travel safety system, the K9 Rucksack and the Coast to Coast Hammock. We both love to travel and traveling with pets in style with convenience is the way to go. We'll have plenty more to say about these rugged travel products. Speaking of travel, admittedly he called it first from our conversations with the Best in Show Dog product: My Pet Pail.
Another area we met in the middle was agreement of the continued interest in "poo." Whether it was a smile from a poo costume from Ruby's or the plethora of poo bags from Pooie Vuiton, biodogradable bags to paper pooch bags, the subject of poo was omnipresent. Recycling has been top of mind for Boomers for quite some time but here again Gen Z has brought the cause central to their buying preferences. He knew far more anecdotally about the issues and was passionate about getting to the "bottom" of what exactly were the recycling claims of the various manufacturers.
Finally, the conference media activities wrapped with the traditional Purina reception. We both agreed Dr. Evan Antin represents the best of the best in the newest media personalities in veterinary medicine and pet care. Purina gave an excellent reception honoring Dr. Antin. Check out his Instagram @dr.evanantin or his new Animal Planet show "Evan Goes Wild" and see if you agree.
Watch for more of the show coverage on Goodnewsforpets in social media and on the web site as the weeks go by. We seek to offer up what works best for Boomers, Joe's fellow Gen Zers and yes, the all important Millenials in the Middle – we've got them covered too.
Don't miss our coverage, sign-up to receive our newsletter, follow us on Instagram or Twitter @goodnewsforpets, Friend me on Facebook at Lea-Ann E. O'Hare Germinder and like our Goodnewsforpets page. Thanks for reading!
@leagerm