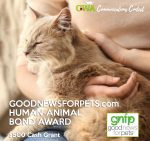 Goodnewsforpets.com is once again sponsoring the CWA Human-Animal Bond Award. This award is presented for the entry that best reflects and promotes the strengthening of the human-animal bond, highlighting the bond between a cat and owner, as well as their relationship with their veterinarian as another direct caregiver.
Entries will be judged for exceptional quality and on the ability to convey this concept and connect with the reader. Qualified entries include single articles (print or online), features, columns, short stories, books, and poetry.  The winner will receive $500 and a commemorative certificate.
Entry deadline is April 16 at 11:59 p.m.