Each year The Westminster Kennel Club (WKC) partners with the Academy for the art contest to create a poster and notecards for charity. The AKC Humane Fund has been selected as the 2017 charity recipient.
2017 Notecards Set of 12 featuring the winning artwork as well as other breeds from the five finalists of this year's art contest. Blank inside. Envelopes included. 5″x7″ You can learn more about the poster contest winners and the AKC Humane Fund here
$10.00
Plus $5 shipping & handling.
Purchase yours here.
In addition to the winner, five additional finalists were selected. All artwork will be utilized in club materials such as note cards, posters and the official Guide and Record Book. The Westminster Kennel Club and the New York Academy of Art thank their shipping sponsor, Cadogan Tate Fine Art (www.cadogantate.com).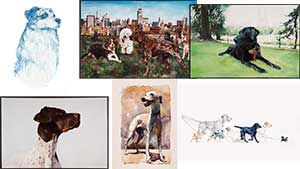 Winner:
Kathryn Swenson – "Vibrant City Stroll"
Finalists:
Marcelo Daldoce – "Penny"
Nick Gebhart – "Pointer with Sophistication"
Amy Hughes – "Lottie in Central Park"
Tatiana Ortiz-Rubio – "Australian Shepherd"
Clarissa Wong – "New York's Finest"