"Matilda, The Algonquin Cat" is a picture book about the life of Matilda, the feline-in-residence since 1932 at the legendary Algonquin Hotel in New York City.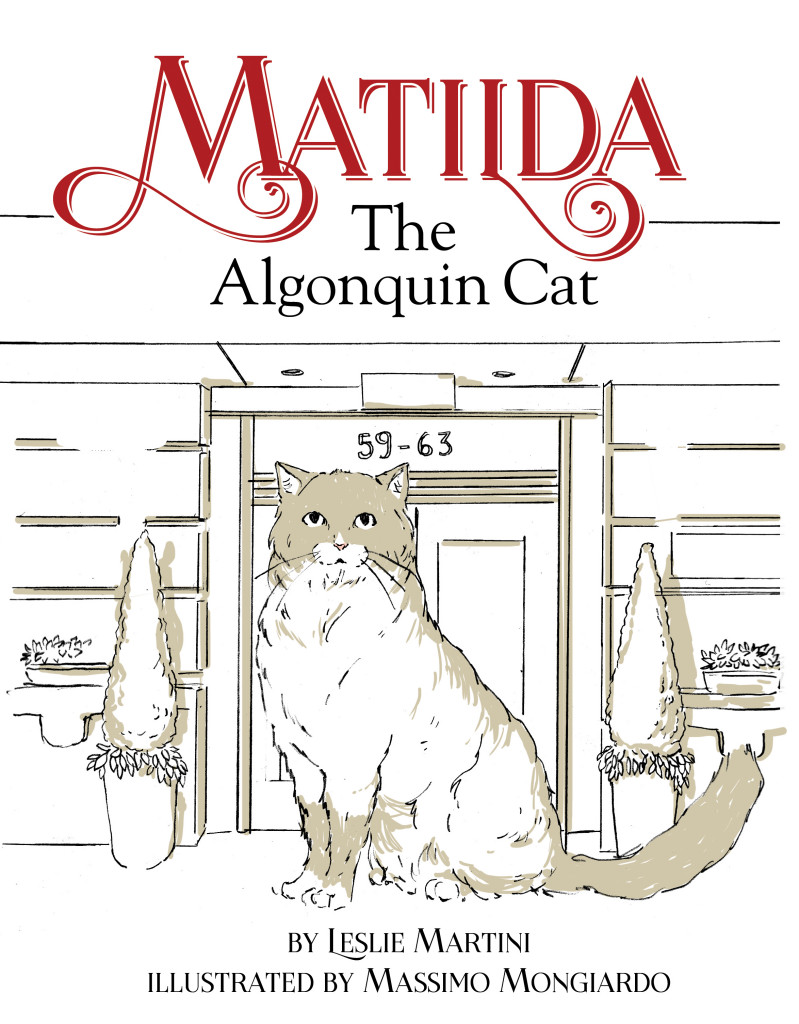 The lineage of "The Algonquin Cat" dates back to 1932, when a stray cat wandered into The Algonquin Hotel in New York City and was adopted by the hotelier. Now a new illustrated children's book "Matilda, The Algonquin Cat" (Wyatt-MacKenzie, OCT 2016) illuminates the daily routine of Manhattan's most celebrated feline concierge, while paying homage to The Algonquin Hotel's long-held tradition of hosting authors, journalists, and actors, most notably the "Algonquin Round Table."
Boston journalist Leslie Martini partnered with New York illustrator Massimo Mongiardo to capture the comical day-to-day antics of the famous cat in lyrical text and traditional pen and ink drawings. Literary history mixes with a grumpy feline attitude to honor some of the hotel's most famous patrons including Al Hirschfeld and John Barrymore, while showcasing the birthplace of The New Yorker—which is given to every guest who stays at The Algonquin.
"The Plaza may have Eloise, but the Algonquin has Matilda! Pull up a chair at the Round Table because Leslie Martini's new picture book is the cat's meow," raved Carol Weston, author of "Ava and Pip" and "Girltalk." Kirkus Reviews wrote: "An appealing, humorous introduction to a legendary hotel through a cat's eyes." It is available in a gift-giving hardcover, an affordable paperback, and on Kindle: http://www.amazon.com/dp/1942545444.
Artwork from "Matilda, The Algonquin Cat" graced the invitations for The Algonquin's 10th Annual Cat Fashion Show on August 10, 2016, which attracted celebrities and high-profile media, fashion designers, and NYC elite. A set of commemorative postcards with book illustrations were included in gift bags for everyone in attendance, and posters based on the book were signed by the author and illustrator and auctioned at the event to help raise over $10,000 for the Mayor's Alliance for NYC's Animals.
New York Times bestselling author Mary Jane Clark praised, "'Matilda' is a perfect gift for the child you love. A very inquisitive and extremely lucky cat finds a home at a legendary New York City hotel and the guests and staff are charmed. You will be too!" Marci Johnson, creator of "Glamour Girls Guide" and the forthcoming "Martini Diaries," reviews, "My ten-year-old son is a voracious reader and he gives 'Matilda the Algonquin Cat' two thumbs up! Once he opened the book, he didn't stop until the last page was turned. This story delighted our entire family. As a mother and a writer who has been a longtime fan of the literary history of the Algonquin, I was thrilled to introduce this magical story to my children. Matilda is destined to enchant generations of families." Nicholas Sciammarella, manager at The Algonquin reviewed, "It's perfect," and is making the book the centerpiece for fall activities at the hotel. Mackenzie Dawson focused on an endearing side of the story in the Sunday, September 18, 2016 edition of The New York Post.
Leslie Martini is an active member of 826 Boston, Writer's Room Boston, the Society of Children Book Writers and Illustrators, Writer's Digest, National Association of Independent Writers and Editors, and the International Woman's Writing Guild (lesliemartini.com). Massimo Mongiardo's work has appeared in books as well as locations throughout NYC including Urbanspace Vanderbilt, Battery Park, and on skateboards and hot-dog carts. Mongiardo's client list includes Nike, Battery Park, Hopps Skateboards, and Momofuku. Mongiardo illustrated "Young Jane Austen" (Wyatt-MacKenzie, 2015) the Foreword Reviews Book-of-the-Year Winner. Wyatt-MacKenzie celebrates their 18th year of indie publishing in Deadwood, Oregon.
"Matilda, The Algonquin Cat" (OCT 2016) written by Leslie Martini, illustrated by Massimo Mongiardo; Hardcover ISBN: 978-1-942545-44-6, $26.00; LCCN: 2016932378; Softcover ISBN: 978-1-942545-56-9, $13.50; 44 Pages, 8 x 10; JUV002050/Juvenile Fiction/Animals/Cats; JUV016150/Juvenile Fiction/Historical/United States/20th Century; JUV023000/Juvenile Fiction/Lifestyles/City & Town Life. Distributed by Ingram.