"Decoding Your Dog," by Drs. Debra Horwitz and John Ciribassi, with Steve Dale. Houghton Mifflin Harcourt.
If you are looking for a special gift for that dog-owner friend or relative, this enriching  volume should be at the top of your list, for it might be the difference between the recipient relinquishing Fido to a shelter or rescue organization or making a determined commitment to fixing what's wrong in what was supposed to be a lifetime relationship.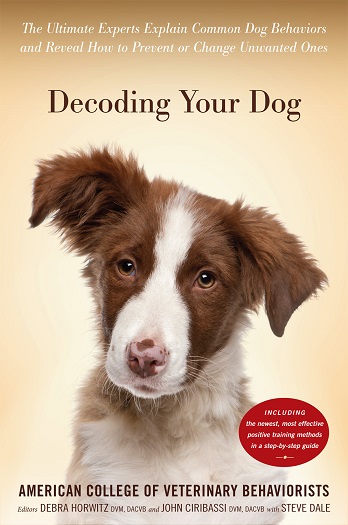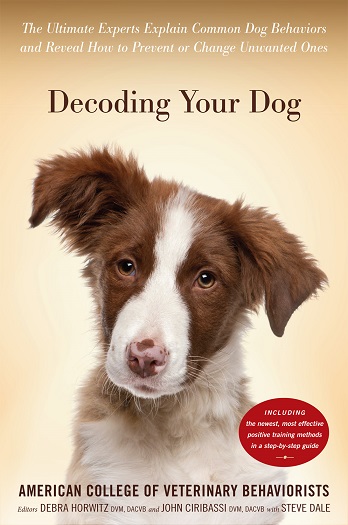 It is not an answer book but is simplified and nicely packaged in stand-alone chapters designed to provide insight and avoid misinterpretation of your dog's signals and body language, from a team of veterinary-medical experts who are board-certified in behavioral medicine.
Hundreds of authors – from trainers to breeders – have addressed these issues previously but none with the credentials this team brings to the table. As owners, we have seen sharp shifts in concepts and ideologies since the 1950s, leaving many confused as to what's right and what works, from the dominant "alpha-wolf" control and harsh-punishment theory to the validated positive-re-enforcement techniques more commonplace today.
"Decoding Your Dog" focuses on scientific empirical information about dog behavior while addressing widespread misinformation on the subject generated firsthand from instructors to the internet.
Founded in 1993, the American Academy of Veterinary Behaviorists is an organization of veterinarians with advanced training and experience in the field of applied animal behavior. Each chapter is written by an AAVB member and then vetted by the two primary authors.
This takes the reader several grades beyond the elementary self-help volume designed to help you cope and correct common canine misbehavior. The focus here is on interpreting behavior in a simplistic fashion that will enable the reader to properly address and hopefully lead to a pathway of overcoming your dog's inappropriate behavior.
The heart of our relationship is succinctly noted by Dr. Mary P. Klinck, in a chapter entitled "All Dogs Need a Job":
"Dogs are living beings with behavioral and emotional needs as well as basic physical needs. These needs don't go away because we are busy or distracted.
": . . Just like people, dog are individuals with different energy levels, interests, and physical abilities – all factors that determine what sorts and amount of enrichment will be right for any given dog. Dogs need both mental stimulation and physical exercise."
While each of the 14 chapters addresses a different facet of canine behavior a small amount of repetition surfaces but not to the detriment or flow of the content. Subjects include selecting a dog, housetraining, tools of the trade, dogs and children, aggression, separation anxiety, noise phobias, common problems that can drive any owner crazy and interacting with old dogs.
Each chapter begins with a detailed vignette, followed by a section entitled "Facts, Not Fiction," a lengthy mix of content and a wrap-up called "What Did We Say?"
A comprehensive glossary, resource guide and brief biographies of the chapter authors strengthen the balance of this resource at the close.
Behavioral issues are the No. 1 reason pet owners cite for relinquishing their dogs at shelters. Frustration, lack of patience, misunderstanding all feed into their decision to finally let go. "Decoding Your Dog" authors nimbly craft a basic primer for grasping dogs' demeanor and in the process offer up the best life-insurance policy you can buy for Fido.
For more on "Decoding Your Dog" see chapter based interviews with different authors check the ACVB archive here. 
Available at Amazon.com
Updated February 4, 2020, originally published in July 2014 on Goodnewsforpets.com, originally appeared on www.seattlekennelclub.org in January 2014.)