2022 Pet Holiday & Pet/Vet Event Calendar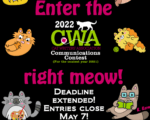 Dental Month Should Be Every Month! Check out these great VOHC approved products. 
SCHEDULING NOTE:
Although businesses and trade shows are opening up again, check with the organization directly as the situation with organizations hosting virtual and hybrid events versus in person continues to remain fluid.  We encourage everyone to please follow CDC guidelines. For guidelines regarding your pets, please visit AVMA.org/coronavirus.
Pet Events
National Train Your Dog Month
Walk Your Pet Month
Adopt A Rescue Bird Month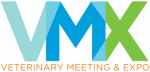 January 15-19, 2022 In Person and Virtual
February
Pet Events
National Pet Dental Health Month
Responsible Pet Owners Month
Valentine's Day February 14, 2022
Love Your Pet Day – February 20, 2022
Goodnewsforpets.com Official Anniversary Day – February 20, 2022
National Wildlife Day – February 22, 2022
International Dog Biscuit Appreciation Day- February 23, 2022
March
Western Veterinary Conference – March 6-9, 2022 Las Vegas, NV  Goodnewsforpets.com Attended. 
Pet Events
World Wildlife Day- March 3, 2022
National Puppy Day March 23, 2022
Poison Prevention Week March 20-26, 2022 Third full week of March starting with a Sunday
Global Pet Expo  March 23-25, 2022 Orlando, FL (trade only event) – Goodnewsfropets.com Attended.
Global Pet Expo 2023 DATES: March 22-24, 2023, Orlando, FL
April
Pet Events
ASPCA's Prevention of Cruelty to Animals Month
American Red Cross's Pet First Aid Awareness Month
Prevention of Lyme Disease in Dogs Month
National Frog Month
National Heartworm Awareness Month
Every Day is Tag Day April 2, 2022 First Saturday in April 
National Public Health Week April 4-10, 2022
National Dog Bite Prevention Week® April 10-16, 2022
National Animal Care and Control Appreciation Week April 10-16, 2022
National Pet Day April 11, 2022
National Dolphin Day – April 14, 2022
National Volunteer Week April 15-22
National Pet ID Week April 18-21, 2022 Third full week of April starting with a Sunday 
National Environmental Education Week April 22-28, 2022​
National Kids & Pets Day April 28, 2022
Hairball Awareness Day
April 29, 2022
Last Friday in April
National Adopt a Shelter Pet Day
April 30, 2022
May
Pet Events
National Service Dog Eye Examination Month
Asthma and Allergy Awareness Month
National Specially-abled Pets Day May 3, 2022
Cat Writers Association Contest Deadline Extended to May 7, 2022
National Pet Week® May 1-7, 2022 First full week in May starting with a Sunday
Be Kind to Animals Week® May 1-7, 2022 First full week of May starting with a Sunday
National Wildlife Preparedness Day May 7, 2022
National Animal Disaster Preparedness Day May 14, 2022 Second Saturday in May
Endangered Species Day May 20, 2022
International Turtle Day May 23, 2022
Interzoo May 24-27, 2022 Nuremberg, Germany (trade show)
June
Pet Events
American Humane's Adopt-a-Cat Month®​
AKA Adopt a Shelter Cat Month
National Zoo and Aquarium Month​
Hug Your Cat Day June 4, 2022
World Food Safety Day June 7, 2022
Pet Appreciation Week June 5-11, 2022 First full week in June
World Oceans Day June 8, 2022
World Pet Memorial Day June 14, 2022
The 146th Annual Westminster Kennel Club Dog Show held at Lyndhurst on Saturday, June 18 through Wednesday June 22, 2022. Details here.
National Insurance Awareness Day – June 20, 2022
Take Your Dog to Work Day June 24, 2022
July
Pet Events
Adopt a Rescued Rabbit Month​
Independence Day July 4
World Zoonoses Day July 6       
Pet Fire Safety Day July 1
July 29-August 2, 2022 Philadelphia, PA. Registration Now Open! 
National Mutt Day July 31
August
International Cat Day August 8
National Immunization Awareness Month National Check the Chip Day August 15
SuperZoo August 17-19
National Bring Your Cat to the Vet Day​ August 22
International Dog Day August 26
Animal Health Corridor Summit August 29-30, 2022
September
Pet/Vet Events
Follow us on social media! Instagram: @goodnewsforpets Twitter: @goodnewsforpets Like us on Facebook: @goodnewsforpets