This week, in honor of the AVMA's National Pet Week and the American Humane Society's Be Kind to Animal's Week, publisher & founder Lea-Ann Germinder had the opportunity to interview her good friend and "America's Veterinarian," Dr. Marty Becker. Lea-Ann has worked with Dr. Becker numerous times over the years with his various initiatives, which brings "good news" to pets nationwide.
As the author of 22 books, including three New York Times best-sellers, there isn't a topic Dr. Becker hasn't covered during his tenure, but one remains near and dear to his heart, his latest initiative, Fear Free™. For tips on taking the stress and fear out of visits to the veterinary clinic, learn more here.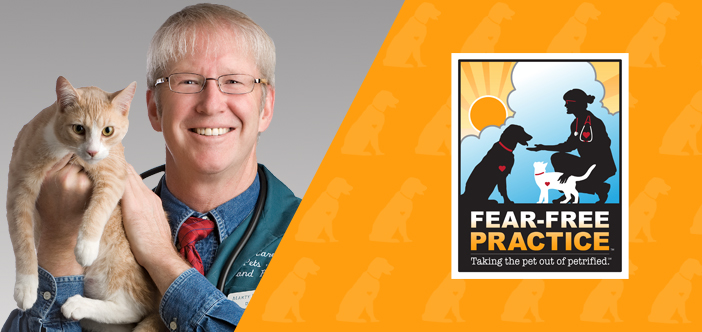 You are always so passionate about everything you do with animals and people. How did that passion start in you to become a veterinarian?
I was about seven-years-old living on our small family farm/ranch in Southern Idaho when the first dreams of "wanting to be a veterinarian" were sparked. We had a Holstein dairy cow that was frozen like a statue on a mound of straw. The local veterinarian, Dr. Hammerquist, diagnosed Milk Fever, gave her IV fluids with calcium, and soon the old girl rose to her feet and ran off. Success! I thought, "Wow, this guy is powerful!" He'd helped a fallen cow rise, and earlier I'd seen him inject a standing horse to castrate and it fell to the ground. I loved animals, science and the admiration and respect folks in the community had for our local veterinarian. The spark that day led to a wildfire of purpose, passion and a plan to become a veterinarian.
Can you tell us about your first practice?  How did you become so visible with the public in your role that you are considered "American's Veterinarian"?
I graduated from veterinary school in 1980 and immediately went into veterinary practice with Dr. Bill Strobel at the Green Acres Pet Hospital in Twin Falls, Idaho. He was not only my partner, he was my mentor and taught me about the art of veterinary practice. It was a practice that was both state-of-the-art and state-of-the-heart. Dr. Strobel hadn't had a vacation in five years! He stayed with me for about one week, then left for a five week vacation.
In 1980 the Parvo epidemic hit. I was a newly minted veterinarian, and unsure of my skills. I had to earn the trust of both the staff and pet owners, and I didn't know how to work efficiently yet (a spay procedure would take 45 minutes back then, when later it would take five). I wasn't "America's Veterinarian" at that point in my career, I wasn't even "Twin Falls' Veterinarian!" However, over 35 years, I earned the trust and respect of my profession in order to talk both to them and on behalf of them to the pet-owning public. Oprah started calling her frequent guest, Dr. Mehmet Oz, "America's Doctor" and when Dr. Oz got his own show, he started introducing me as "American's Veterinarian."
I must ask you about your daughter Mikkel, who is fast making a name for herself in educating pet owners too. How did she get involved with pets and how are you working together now?
Mikkel has a gift with animals, but always wanted to be a broadcast journalist. When she was just a preteen, she had the opportunity to go on the set of Good Morning America and see Diane Sawyer. That started her on a career path that ended with a communications degree from the Edward R. Murrow College of Communication at Washington State University.
When Mikkel was just a young girl, she took a Wirehaired Fox Terrier named Scooter, and made him a 4-H obedience champ (if you know anything about this breed, this wasn't easy!). She was an accomplished equestrian and was the three-time Canadian National Champion. She had special insight, connection and timing with animals from her very first encounters.
About the time of college graduation, Diane Sawyer, who had known Mikkel for about eight years, told her she was too nice of a person, had a special spirit, and wasn't mean and ruthless enough to make it in broadcast journalism. So Mikkel turned back to her natural gift and love, working with animals, and then proceeded to get all the formal journalism training she could. Mikkel and I have written five books together, we both write for vetstreet.com, and are now working in tandem to create the "Fear Free™" initiative, focusing on veterinary visits for pets to vets.
About 78 percent of veterinarians graduating veterinary school are female. As a new grandmother myself I have to ask, are you hopeful your granddaughter will follow in your footsteps and become a veterinarian?
I can almost guarantee you that my five-year-old granddaughter, Reagan, will become a veterinarian. How do I know? She's got her mother's gift with animals. She has zero fear around animals of all sizes and the things that can turn some people away from this career (blood and guts) don't bother her in the least. She has a veterinary Barbie, and veterinary doctor's bag with which she sees patients all the time (the family dogs and cats), and she tells everybody that is what she's going to do when she grows up. It's been my experience when this kind of thing happens to kids, they become adults with veterinary degrees. I would encourage her to pursue this career for several reasons:
You get to celebrate, nurture and protect the human animal bond.
The work is very interesting and important.
People love, respect and admire veterinarians.
You can be financially successful and emotionally wealthy.
Puppy breath!
Tell us about your latest project, the Fear Free™ initiative, and how you decided there was a need for this program. What's it all about? 
I heard a highly respected veterinary behaviorist say "fear is the worst thing a social species could experience and that it caused permanent damage to the brain." Dr. Overall went on to further explain how maladaptive fear forms and how what we (the veterinarian and health care team) were doing or not doing was causing repeat, severe, psychological damage to pets. Eureka! I knew before the end of her talk (six years ago) that we (the veterinary profession) had to start looking after both the "physical" and "emotional" well being of pets under our care. Simply put, we take the pet out of petrified.
Ceva Animal Health is one of the sponsors of the Fear Free™ initiative. What is the role pheromones play in a Fear Free™ practice and in the home?
Pheromones are our velvet hammer in giving fear a knockout blow. Pets coming to the veterinary hospital for a Fear Free visit, are riding a magic carpet ride of calming pheromones from carrier to car to the veterinary clinic.
How long do you think it will take the Fear Free™ initiative to take hold?
It has already taken hold. In my 35-year career, I've seen three previous transformations. The first was embracing feline medicine (cats aren't just small dogs). The second was comprehensive dental care and the third was multimodal pain management. Creating Fear Free™ veterinary visits is the largest and most comprehensive of these, as it's literally every pet, every practice, every day. We've already got solid roots planted for Fear Free™. Most of the profession knows the "what" and "why" of Fear Free™ and now it's up to us to teach the "how."
If you had one wish for the success of your Fear Free™ initiative, what would that be?
I would wish every veterinary healthcare professional took responsibility for every pet's physical and emotional wellbeing. We must take ownership of the emotional care and compassion for every pet under our care.
Is there a place veterinarians, veterinary technicians and pet owners can go for more information? If the program is still rolling out, what is your message to these groups?
There are symposiums, seminars and workshops being held across the country. The single best place to go is to dvm360.com/fearfree.
There are so many celebrations of pets now, which is wonderful, but the first week of May is very special. It's the AVMA's national celebration of Pet Week and also the American Humane Society's Be Kind to Animals Week. Is there a special message you have for our community this week?
We are the true pet health professional. This is something we must work had to earn, enhance and educate the public on.
Anything else you would like to add?
I love you Lea-Ann!
Thank you Dr. Becker!
FOLLOW DR. MARTY BECKER